Our Story
Signet Supply launched operations in July 2009 in response to the need for lower cost, high quality funeral products delivered with uncompromised service.
Signet Supply's offering has been a targeted selection of high-volume, eye-appealing caskets. In 2011, we added Freedom of Choices™, Signet Supply's line of cremation caskets and containers.
Signet Supply strives to fill the gap between cost and quality; creating value for funeral home customers and ultimately the families they serve.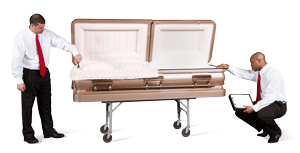 Quality and Service Assurance
You have our assurance that Signet Supply will offer only high quality wood and metal caskets along with excellent service.
We have implemented the 20 Points of Quality Assurance at all manufacturing facilities and distribution centers to ensure each and every casket undergoes a rigorous quality control inspection. As such, 20 different attributes on each casket are checked and verified before the unit arrives at your funeral home. The exterior surfaces/finishes, interiors and functionality of the casket are included within the inspection process. As a final step, the Quality Control Managers will add their signature assuring the casket is 100% ready for delivery.
Distribution centers are managed by professional teams with years of experience in funeral service. Each distribution center will maintain sufficient inventory and establish a delivery schedule to meet the needs of the markets they serve.
Our professionally attired and trained Customer Service Representatives will deliver the caskets at the specified time, in specially designed casket vehicles and be sensitive to the possible presence of the families served by the funeral home.